LOUDSPEAKERS
Back to Home Page
Click here for Custom Sealed In-Wall Speakers
Scroll down to read about our granite enclosure designs.
Find out what using the absolute highest caliber components and internal wiring can do to bring a loudspeaker to life! Find out what true transparency really is! Find out what your front-end equipment is really capable of!
At Talking Dog Transducer Company, we believe that absolutely nothing in the signal path is insignificant. While companies like B&W think that 16 gauge OFC Monster cable is good enough for their $15,000 Matrix 800's, we know that wire of that quality isn't good enough for even our least expensive speaker. The speaker-building companies of the world don't seem to know what we know, that every last component, every last little quarter-inch of wire needs to be of the absolute highest quality for the music to flow without hindrance. From the least expensive speaker we make to the most expensive, we use nothing less than metallized polypropylene film capacitors, film & foil polystyrene bypass capacitors, copper-foil inductors, silver-bearing solder, Vampire binding posts, and silver-clad, teflon-insulated, 5N copper LAT cable. In our best models, we use MIT film & foil polypropylene capacitors, Cardas silver-rhodium-plated binding posts, Solo CFAC copper-foil air-wound inductors and, in addition to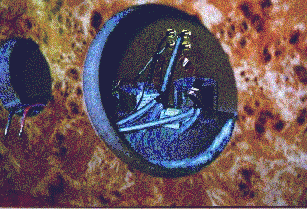 [ To see the full range of LAT's superb cables, go to: http://www.latinternational.com]
LAT wire, solid core 5N pure silver wire. Regardless of price, we strive to deliver the lowest, tightest bass, the most fluid midrange, the smoothest high frequencies and the greatest degree of transparency you will find for anywhere near the same amount of money. Configurations range from standard small 2-way systems, to large, full-D'Appolito 3-way systems with bass response extending to 19Hz within 3dB, without equalization. We also construct single and dual-driver subwoofer designs. Systems can be custom-designed to suit your aesthetic and spatial needs as well as your musical longings. Or, we can perform anything from a crossover upgrade to a complete rebuilding of your current loudspeaker system.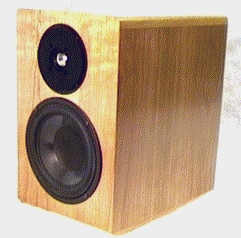 At $1800, we have our cherrywood "Neutrino 0.5": So called because they are exactly half of a cubic foot in internal volume. They are 13.75"H x 11"D x 9"W in size. They are a two-way design, consisting of a 7" CSC-line Peerless polypropylene woofer, and a modified LPG 1" titanium dome tweeter(one without the typical ultrasonic resonant peak), in a dual-ported enclosure. The crossovers consist of copper-foil air-wound inductors, MIT polystyrene and SCR/Axon metallised polypropylene capacitors, and a combination of pure 5N silver and silver-plated 5N copper LAT wire. They are equipped with Vampire binding posts in a bi-wirable arrangement. They are 4 ohm speakers with a 150W RMS power rating, and are about 88dB efficiency. The standard enclosure is constructed of solid cherrywood for the top, bottom & sides, and cherry-veneered HDF for the front & back, but can be made in your choice of veneers or laminates.
Here is a commentary from one reviewer about the Neutrino 0.5:
EXCERPT FROM "SECRETS OF HOME THEATER & HIGH FIDELITY"
A new company based in Singapore, Diva Classic Audio, shared a room with Talking Dog Transducer Company, and the combo proved impressive. T. S. Lim, a musician and designer of the Diva line of gear, holds simplicity, musicality, and purity among the cornerstones of his design philosophies. Plus, he's a big fan of vintage NOS tubes to extract the ultimate performance from his gear, which is right in line with my way of thinking. The Diva Classic 200 preamp ($1,395), combined with the Diva Blue Sky power amplifier ($1,795), were driving a pair of Talking Dog Transducer Company Neutrino 0.5 speakers ($1,800 in Cherrywood) to wondrous effect. Talking Dog Transducer, like Diva Classic, is a relatively unknown company, but based on what I heard, they deserve some fans. You would be amazed at the dynamics I heard coming from this small speaker. It was hard to believe, really. Stephen Sank, the Talking Dog Transducer designer, has concluded that top-notch parts are essential to achieve the sound quality he seeks in his designs. The results of his theories speak for themselves. Judging by my brief but impressive demonstration of these products, I'd sure like to learn more about both of these companies.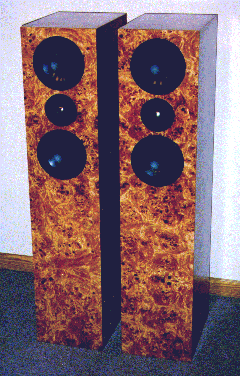 At $3000/pr, we have our newest design: the "Tachion 2.5", a floor-standing, D'Appolito-configuration(tweeter placed between the two woofers), 2.5 cu.ft. design, using two 7" CSC-type Peerless woofers and a modified LPG 1" titanium dome tweeter. The bass response measures -3dB at 36Hz & -10dB at 26Hz, so these speakers provide a satisfying low end without subwoofers. More importantly, they provide a un-exaggerated & overwhelmingly natural bass. What auditioners have said most often about them is that they have wonderful imaging & an amazingly seamless coherency from top to bottom. Dimensions are approximately 48"H x 10"W x 14"D. They are 4 ohm speakers, will handle 300W RMS, and are about 89dB in efficiency. While extremely attractive in their standard satin-black laminate finish, they can be made in any color laminate, or, for an additional $250-600, in a variety of wood veneers.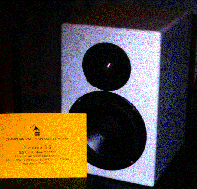 Next are our GRANITE "Copernicus": Identical to the "Neutrino 0.5", but in a granite stone enclosure. A half inch smaller in each direction due to the thinner, but far denser, material. Granite, being such a completely "dead" high density material, gives them an indescribably effortless bass response, no matter how hard you drive them. It also makes them much easier to find stands for. Since the cabinet vibration is so nearly non-existent, the stand has very little effect on the sound. I feel very, very confident in saying that these are better speakers than anything we have yet heard (including the B&W 800($15,000) and 801($6500), any of the Apogee's($2-8000) or the Italian Diapason's ($1500-$4700), to name a few. You will lose a certain amount of low end extension compared to large speakers, but you will gain a HUGE amount of natural-ness, punch, speed and articulation in the bass(they easily go down to 40Hz), along with a far more open and smooth top end, etc. Because of the MUCH higher cost of making the cabinets out of granite, these sell for $4500. These can be made in any of the many patterns & colors of granite available. As an available option, we can make granite stands to match, for a truly stunning visual effect, as well as providing superb performance.
Any of our speaker models are available in granite, on a custom order basis.